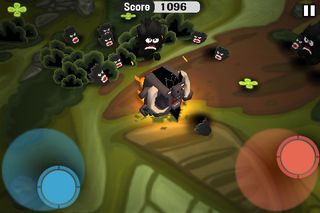 A confession: I haven't played iDracula yet. So I was keen to jump on Minigore as soon as it came out, with similar buzz around Chillingo's latest 99-cent game.
Instant reaction: it's very fun, with a distinct visual style, and bags of 'just-one-more-go' appeal.
You wheel around the screen controlling your hero with one virtual analog stick, and firing in a 360-degree arc with another.
It feels like a 1.0 release, though – it will hopefully benefit from some different game modes and maps, and perhaps more sophisticated use of the OpenFeint social platform in future updates – for example, achievements.
App Store Link: Minigore
This was originally published in the iPhone Games Bulletin, a daily news/analysis email for the iPhone games industry. For signup details, click here.